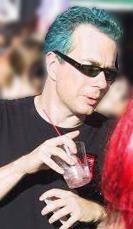 W. Vann Hall
W. Vann Hall is or has been an award-winning educational writer; an internationally renown expert in the design of computer systems to manage very large-scale data and video networks; an exotic dancer; a graphic artist; a Fabian; the coauthor of a book on Pascal programming; house VJ for San Francisco's premiere fetish events; a regular contributor to the original incarnation of Trouser Press; Vice-President of the University of Virginia Graduate School of Arts and Sciences; a founding member of the Mental Hygiene League; a litigation support analyst for the DOJ's investigation of the Teamsters; associate producer of a documentary about author Hubert Selby, Jr.; a teaching assistant in electronic music; an early Internet paper millionaire; a founder and past president of Top Records; a radio personality; a glamour photographer; a member of UVA's Honor Committee; an occasional writer for Musician magazine; a regular performer on WFMY's Old Rebel Show; an editorial proofreader for the Washington Monthly; an Echols Scholar; owner and publisher of California's oldest adult newspaper; an improvisatory video artist; an original member of the Wamalu Puppeteers; a United Airlines 1K Member; 'shadow-CTO' for a large Canadian OSS vendor; a member of the Goodyear Blimp Club; one third of the infamous Jimson Trio; and, to the best of his knowledge, the only model to appear in the European magazine Cupido in the work of three separate photographers.
He's a damn fine cook, and he sold Jeffrey Zeldman his first computer.
Among his friends can be found the current or former heads of several fortune 500 companies; a number of actors and actresses from the Golden Age of American Porn; quite a few of the major players in the Internet economy; scads of un- or semi-employed writers, poets, musicians, playwrights, filmmakers, and performance artists; and, of course, Mojo Nixon.
He has twice dropped out of graduate school and twice been married — once for 10 years, once for 10 months.
In his spare time, he edits video, hacks HTML, raises Old World chameleons, composes music, reads voraciously (150–200 books a year), and lives dangerously beyond his means.